So who is in love with The Home Edit as much as I am? Two ladies, Clea and Joanna, obsessed with organizing, or "[reinventing] traditional organizing, and [merging] it with design and interior styling."
Not that I need 30 paper towel rolls readily available ever (or, maybe?) but I just love the simplicity and organized nature of everything having a home in a place like The Home Edit does. Do I wish they could organize everything in my home too? Probably. Can I afford them, probably not. Can I do it myself? I'll surely try! And here's where I started…
Since moving in with the BF, and downsizing thanks to my Debt Free Journey, finding a home for my things – among his things – has been quite the adventure. Most things have fit just perfectly, others have needed a solid questioning – "does this bring me joy", and everything else fit in a couple of bins that fit in his storage space.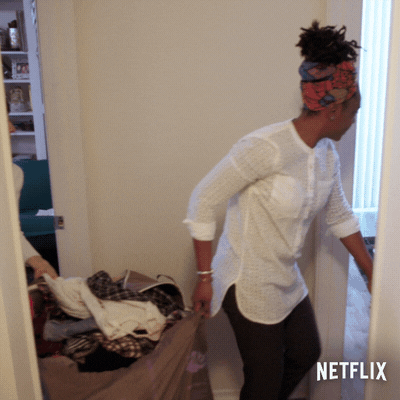 Now comes the fun part. We're both very crafty – he definitely more so than I – and he has a whole lab that we call "the lab" full of electronics, photography equipment, PCs, laser cutter, a whole closet of bins of things. I helped organize it when I first moved in and labeled everything with masking tape… but I knew in my heart of hearts a label maker would be necessary to get everything ultimately, perfectly organized :).
On a whim, with some extra "misc" funds in my budget, I purchased the big mama Brother label maker. What a FUN NEW TOY! We haven't had a chance to re-do "the lab" yet but I started in the kitchen. Given how much we cook at home, the cabinets are just filling up with stuff! So I purchased some fun plastic kitchen pantry bins and wondered what he'd think.
I decided to ask him to help! I'm all about partnership… I haven't come all this way (single-ish through my 20's) to not have an amazing partner, down for my crazy, down for helping me with my endless list of "fun" things to do. He wasn't as excited as I was… obviously, but I asked for his help in deciding only two things:
what I should use the bins specifically for
what we should then name and label the bins by
He didn't have much a point of view on the bins and what to use them for… fine. I decided that. But by giving him these options, he chose and was open to getting creative with me on labels! Look how fun… I would have never thought of these!
It takes being a little extra creative to involve the Mr. in your "fun" projects but by giving them options on how they can be involved seemed to work out in my favor and hopefully yours… because who doesn't need a bin for "tools for deliciousness" or "flavor pouches"?