SMW (Social Media Week) NYC is always a great week for people like me to learn from industry professionals about everything I love to do. Also great for those curious about the industry to learn more. From success stories cross-industry to crises, research and day-to-day community management best practices, the panels are a great way to stay atop of all the information out there.
After all, "we've had 20 years to [get to know] Print, 40 years for TV, and less than 10 years in Social Media…" (@brittanydarwell) we are still learning a lot very quickly so we know social media isn't going anywhere anytime soon.
While difficult to register for a lot of events due to limited space and thousands of guests, I was able to land a seat in two events this year,
"Keeping Up with the Agile Consumer" hosted by Offerpop, and "Connections: How the Internet of Things is Transforming Our Social World" hosted by Imagination.
Last night was the Agile Consumer panel co-hosted by JWT in their Advertising & Marketing Hub (awesome office!)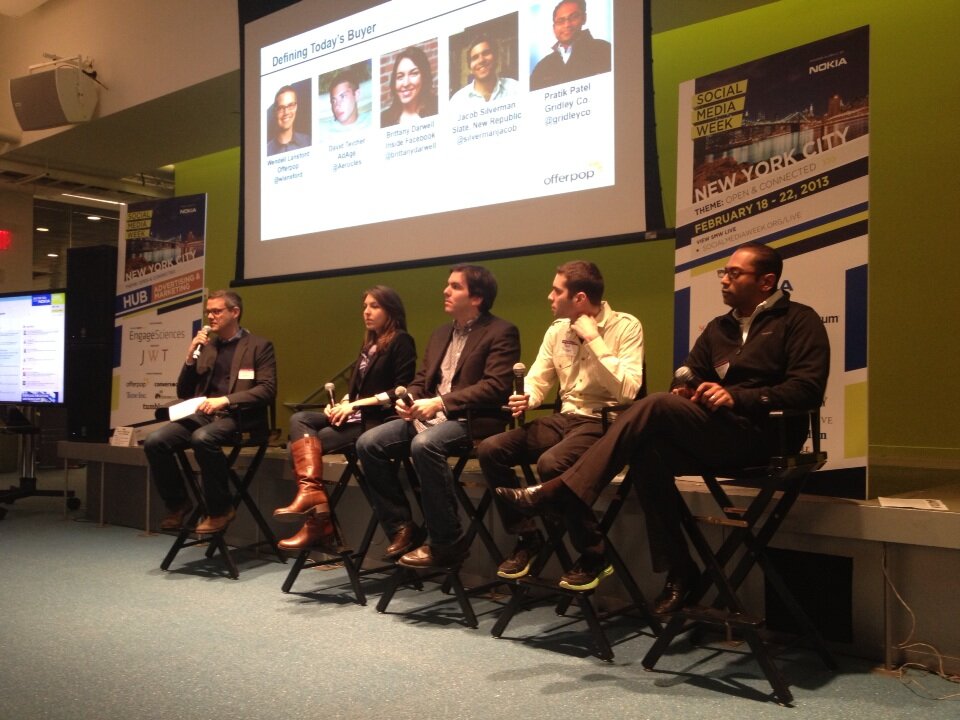 Here are some key takeaways I thought I'd share.
Topline: The agile consumer doesn't care about any individual "brand" as much as they used to because they are doing their research. They know you AND your competition. They are more aware and very well-informed before they make any concrete purchase decisions. 50% are influenced by their social media networks when making their purchase decisions and 80% want a more mobile-optimized in-store shopping experience.
From brick and mortar stores to eCommerce sites, companies are doing what they can to be as leading edge as possible, to keep up with their agile consumer.
Take Rent the Runway for example, which launched the "Our Runway" social shopping experience on their site. Per @KatieRTR, RTR found that customers were 200% more likely to transact based on this user-generated approach to eComm. Why? Because you're more likely to buy something when you see it on a girl that looks like you, over a 5'10 emaciated model.
Per @melsanie, SM manager at Saks, foot traffic is still always top of mind for brick and mortar stores. Moreover, how does the agile consumer within the mobile world influence and increase foot traffic. To start, Saks has started enabling WiFi in stores, as well as iPad's available for a more mobile shopping experience.
Another key takeaway which I think is important for companies that may be a bit lost in the midst of how social media sits within their organization and marketing, remember to keep "driving a common messaging plan." That's what Robyn Yoslow does over at Nokia and they've seen a huge uptick in followers and brand advocates over the past year.
Still not sure how to cater to your agile customer? Just listen.
@Shawnhollenbach, super smart and fabulous Digital Marketing Manager at Logo TV, adds "we built our brand up to be one of the loudest only because we're listening, not just talking."
Listening is so, so important. Your fans or "agile consumers" will let you know exactly what they like or don't like – so ask. If you want to talk to them WHERE they are, then don't push them to talk to you somewhere else.
Social media cannot be a one-way communication. Analyze your resources and take a good look at where your brand advocates, customers, and potential new loyalists are. Once you know that, figure out which individual tactics you will execute on those channels for those audiences. It's a lot to do, but when you do it right, you're able to share awesome successes with your fans!