Important to caveat, I recently moved from the greater NYC area to Madison, Wisconsin.
There I was…on a slow, cold Saturday, on one of my ritual Kohl's trips* when I wandered into the kitchen appliances section to pick up a box of Cinnabon's Classic Cinnamon Roll Coffee k-cups.
I turn the corner to continue shopping and come face-to-face with The Original Crock-Pot; a kitchen appliance I've always associated to an older, homemaker-type woman. Not me.
I'm no cook, friends. Just before my move, I began hosting brunches and trying my hand at easy, brunch-bites but I'm no open-the-fridge grab-anything make-an-amazing-meal type of lady. My cooking repertoire pretty much consists of grilling chicken and microwaving veggies, ordering pizza, or following a very specific recipe for a special occasion. Nothing more.
Since moving to the midwest though, I have learned that slow cooking is not only key to the mouth-watering chili and dips shared at the office, but a time saver, apparently, to women of all ages.
So I sat staring at the Crock-Pot having a total out-of-body experience in-which I wondered who the hell I was… a (very young) woman in her thirties considering purchasing a slow cooker for meals for 1?
I said to myself,
Girl, just stick to what you know! These are the days of your life where you should totally eat all the take out.

Once you have a man who can cook for you, take out won't be an option! Keep it moving.
I moved along. Convinced myself not to buy it.
I'm better than a Crock-Pot.
I continue along my lap through the store and stumble on the "Under $25 holiday gift ideas" section where I saw a super cute tin, an official collection of Crock-Pot recipes. It was a sign that I needed to give the damn slow cooking experience a chance.
I left Kohl's that day with my new Crock-Pot in tow wondering what recipe I'd try first. A chili? Or a dip? Beef or Chicken or Turkey.
I went with a Ground Turkey Black Bean chili and I have to say:
This damn Crock-Pot is the perfect solution for an impatient, mediocre, entry-level "cook" like me. You just throw it all in there and let it marinate.
Chili is so good. I want to make every chili in the recipe box and then all the chili recipes on Pinterest.
I have lunch for days. Talk about meal prep in bulk, amiright?
I definitely feel like an older, homemaker lady.
I'm ok with feeling like an older, homemaker lady because… so good.
I am officially a midwestern woman.
Who's comin' over for some slow cooked… anything you want?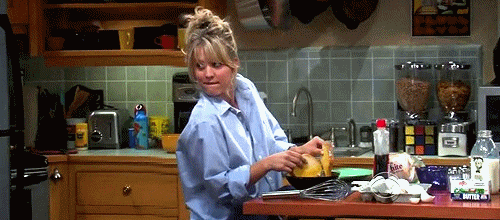 *Got these presh Candie's booties that day too.
Want a pair? You're welcome.